RX Box & Lid 410x380x75mm (16.5"x15"x3")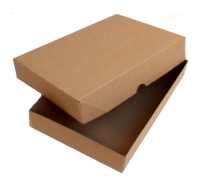 Solid Brown Craft Paper Board Boxes
Style 0304 as per images.
Comes in two pieces: Lid and Base.
Internal Dimensions:
Length: 410mm (16.5")
Width: 380mm (15")
Height: 75mm (3")
Packs of 50
GUARANTEE DISPATCH THE SAME BUSINESS DAY IF YOU ORDER BEFORE 2 pm!
Delivery charge vary on the quantities, see at the checkout.
All prices are exclusive of VAT and delivery.
Important!
Please provide your telephone number at the checkout
(required by couriers for deliveries)
If you wish to place an order over the phone and use your credit card
please call: 07491 33865 (from outside Ireland +353 7491 33865)